War dominated 30 years of Vietnam's history last century. The struggle that began with communists fighting French colonial power in the 1940s did not end until they seized Saigon and control of the whole country in 1975. The period that Americans refer to as the "Vietnam War" – and the Vietnamese call the "American War" – was the US military intervention from 1959 to 1973.
The Vietnam War was a long, costly armed conflict that pitted the communist regime of North Vietnam and its southern allies, known as the Viet Cong, against South Vietnam and its principal ally, the United States. The divisive war, increasingly unpopular at home, ended with the withdrawal of U.S. forces in 1973 and the unification of Vietnam under Communist control two years later. More than 3 million people, including 58,000 Americans, were killed in the conflict.
The US was driven by Cold War concerns about the spread of communism, particularly "domino theory" – the idea that if one Asian nation fell to the leftist ideology, others would quickly follow. The Vietnam War was protracted and bloody. The Hanoi government estimates that in 21 years of fighting, four million civilians were killed across North and South Vietnam, and 1.1 million communist fighters died.
A med evac off Mutters Ridge, 2nd Bn 3rd Marines.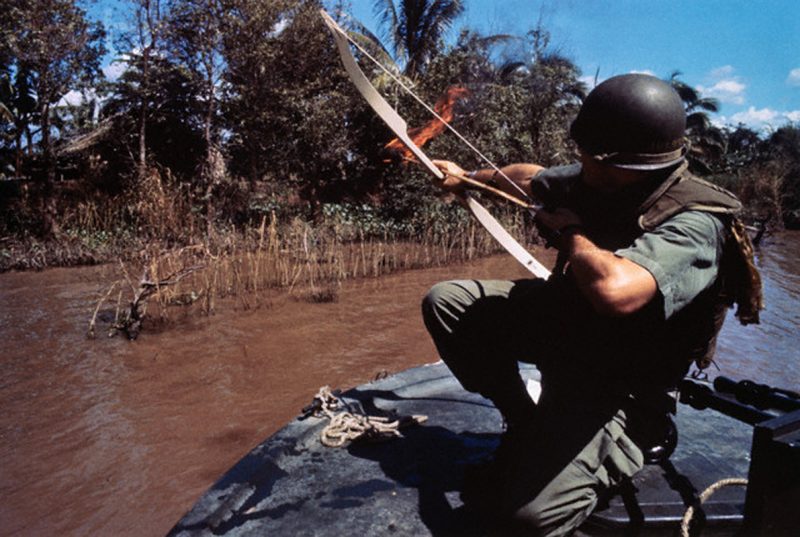 A Navy lieutenant aims his flaming arrow at a hut across the river that conceals a Viet Cong bunker.
Marines of Delta 1/5 caring for their wounded at HUE, 1968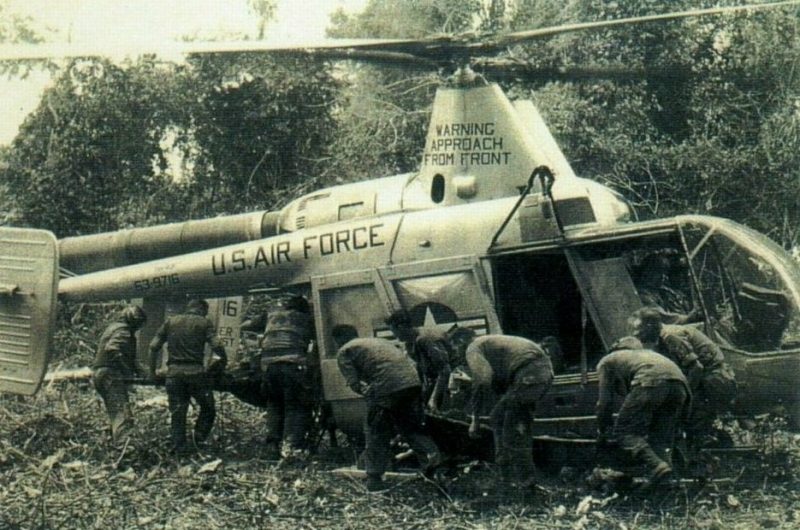 Rare picture of an HH-43 Pedro evacuating casualties during operation Abilene.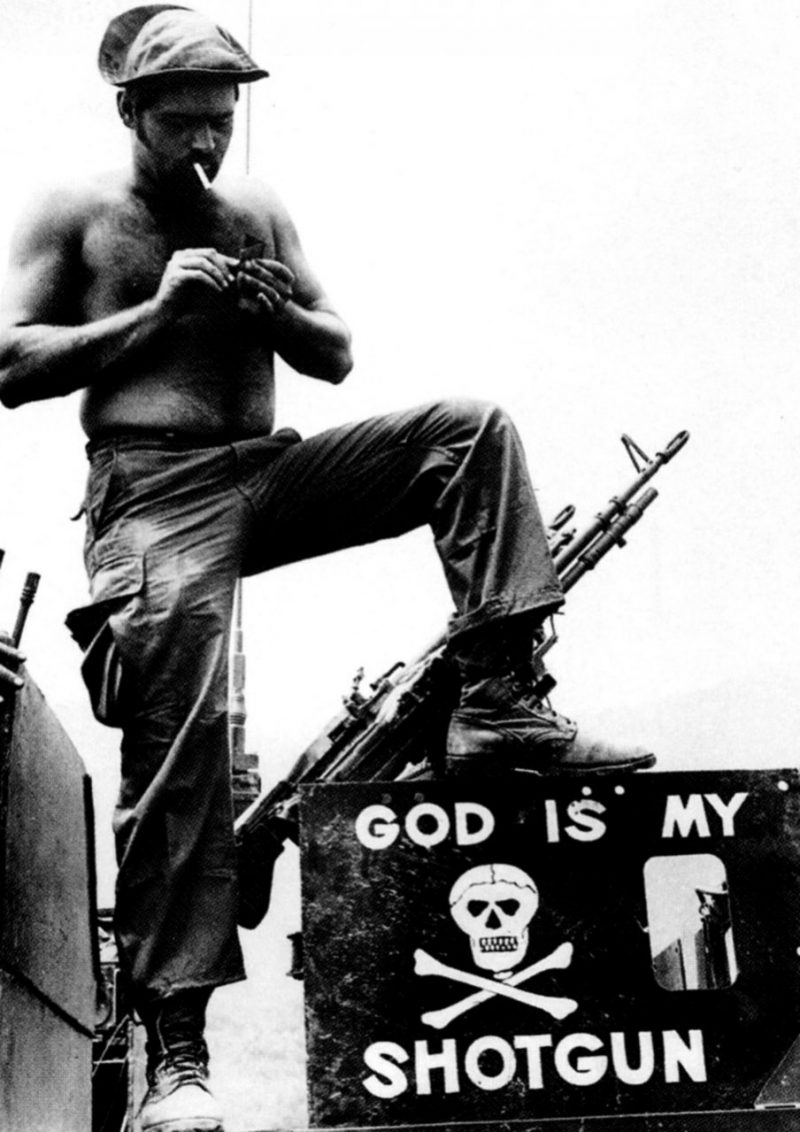 Khe Sanh, South Vietnam – April 12, 1971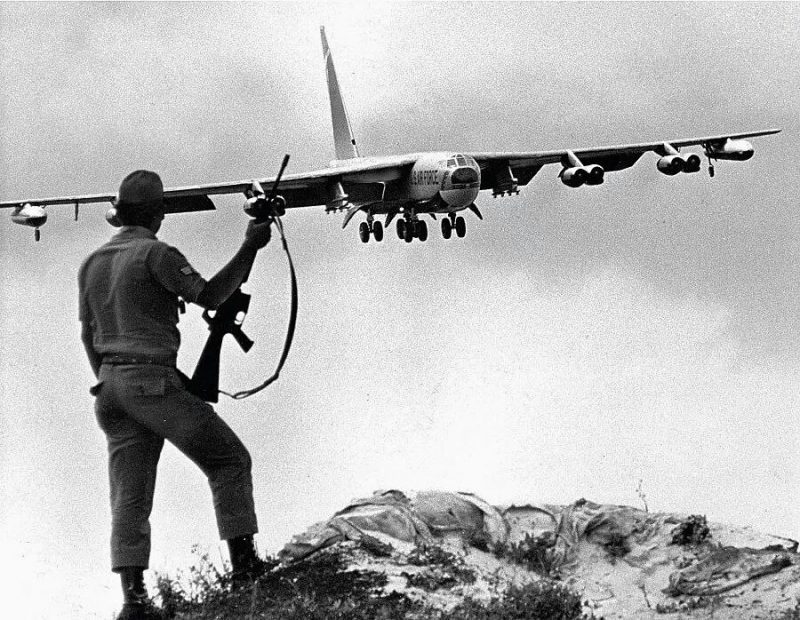 B-52 Vietnam war – Air Force soldier with no magazine in weapon (Guam or Thailand?)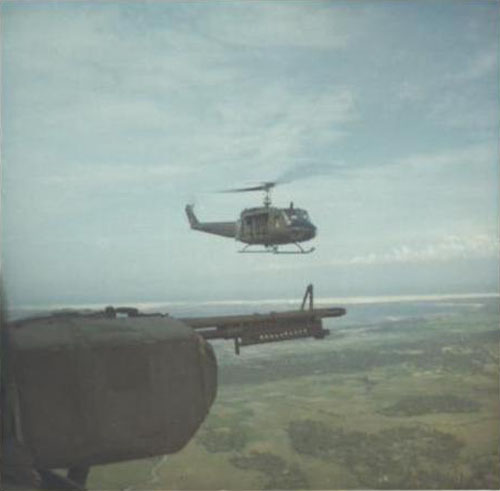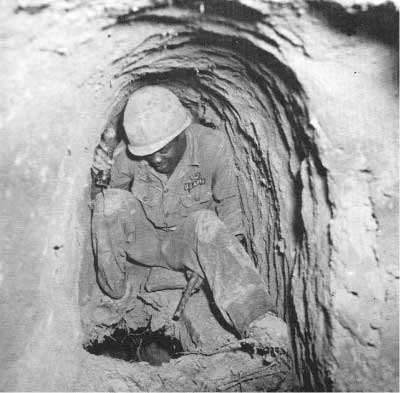 Tunnel rat Melvin Sherrell, KIA December 13, 1966.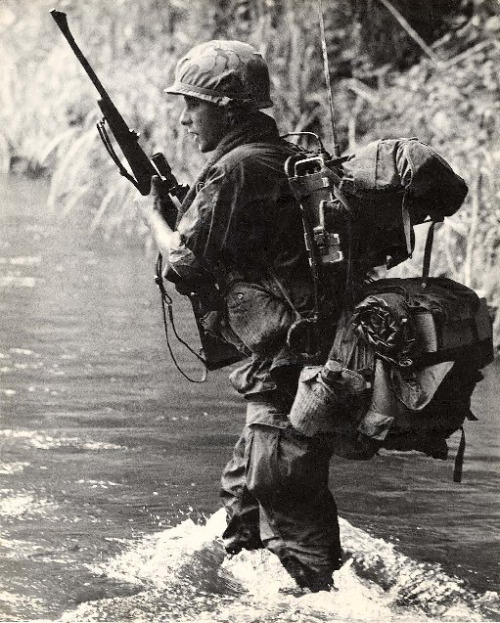 An RTO carrying his ruck incorrectly while crossing the stream, most likely only temporary!
The United States began drastically reducing their troop support in South Vietnam during the final years of Vietnamization. Many U.S. troops were removed from the region, and on 5 March 1971, the United States returned the 5th Special Forces Group, which was the first American unit deployed to South Vietnam, to its former base in Fort Bragg, North Carolina.
Under the Paris Peace Accords, between North Vietnamese Foreign Minister Lê Đức Thọ and U.S. Secretary of State Henry Kissinger, and reluctantly signed by South Vietnamese president Thiệu, U.S. military forces withdrew from South Vietnam and prisoners were exchanged. North Vietnam was allowed to continue supplying communist troops in the South, but only to the extent of replacing expended materiel. Later that year the Nobel Peace Prize was awarded to Kissinger and Thọ, but the Vietnamese negotiator declined it saying that a true peace did not yet exist.
The communist leaders had expected that the ceasefire terms would favor their side. But Saigon, bolstered by a surge of U.S. aid received just before the ceasefire went into effect, began to roll back the Viet Cong. The communists responded with a new strategy hammered out in a series of meetings in Hanoi in March 1973, according to the memoirs of Trần Văn Trà.
As the Viet Cong's top commander, Tra participated in several of these meetings. With U.S. bombings suspended, work on the Ho Chi Minh trail and other logistical structures could proceed unimpeded. Logistics would be upgraded until the North was in a position to launch a massive invasion of the South, projected for the 1975–76 dry season. Tra calculated that this date would be Hanoi's last opportunity to strike before Saigon's army could be fully trained.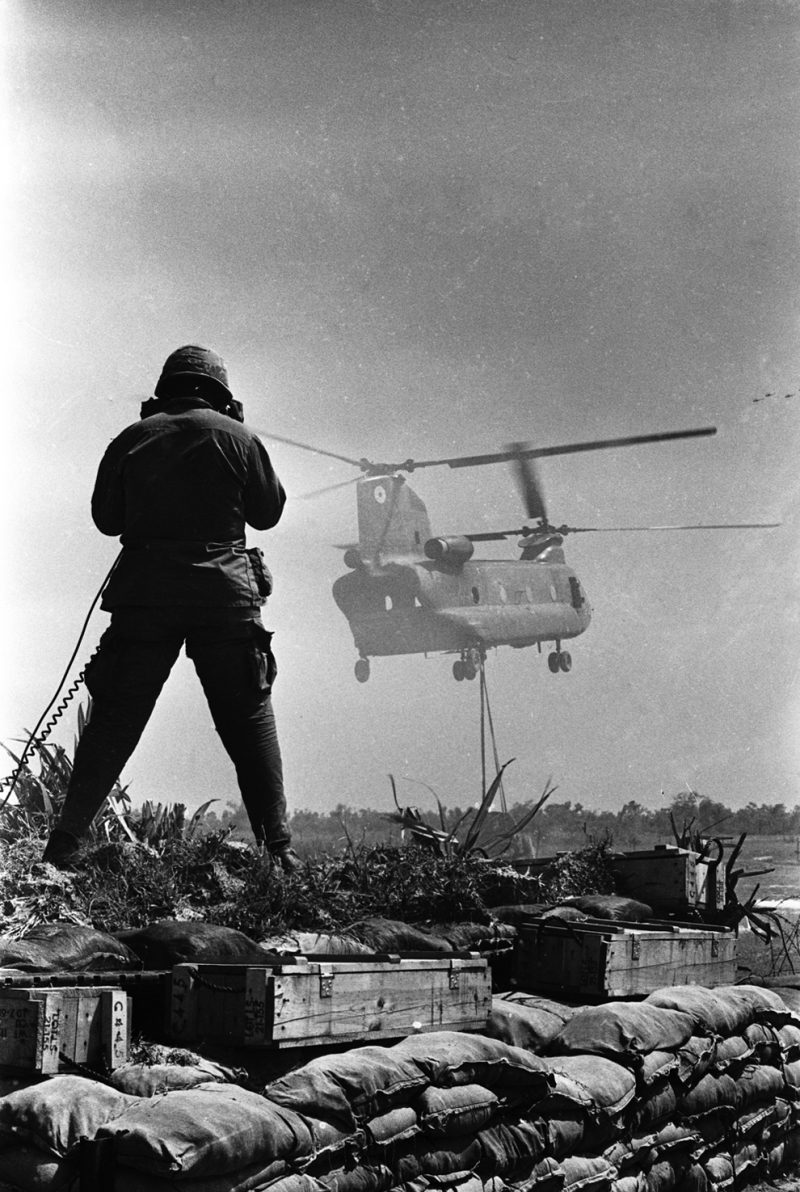 An RTO guides a Chinook delivering a sling load of materials and supplies at Fire Support Base Pershing, near Dau Tieng. Name and date unknown.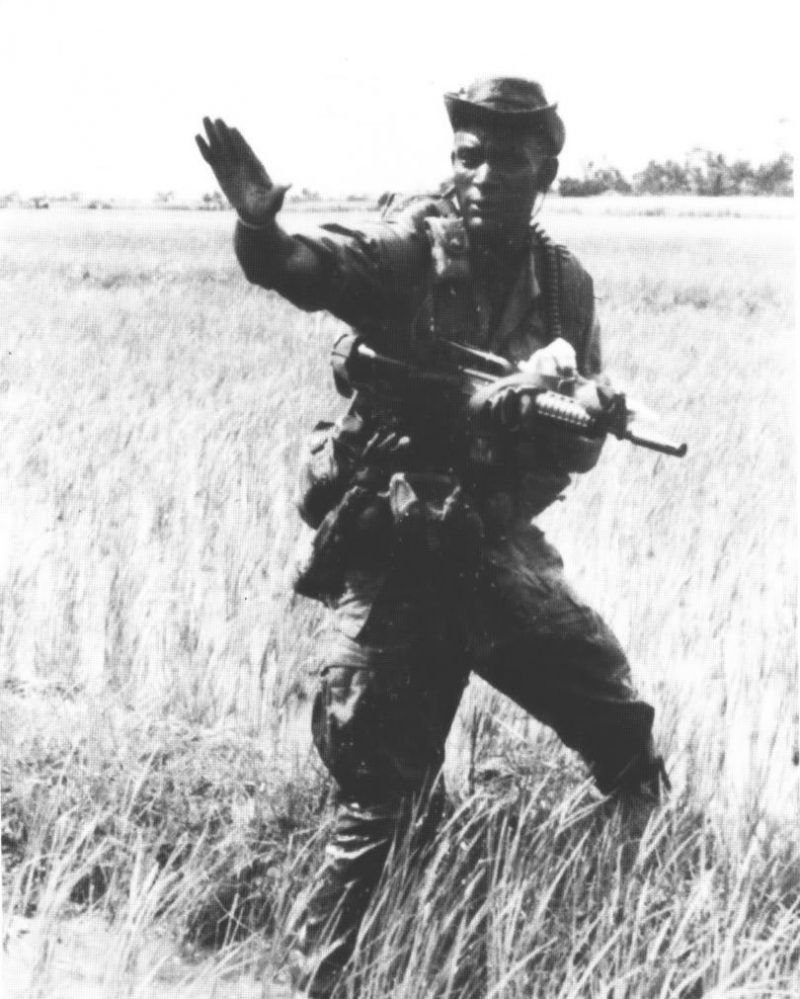 A LRRP team leader, unit D, 1st Squadron, 4th Cavalry, 1st Infantry Division makes it signals his men during a patrol in 1967.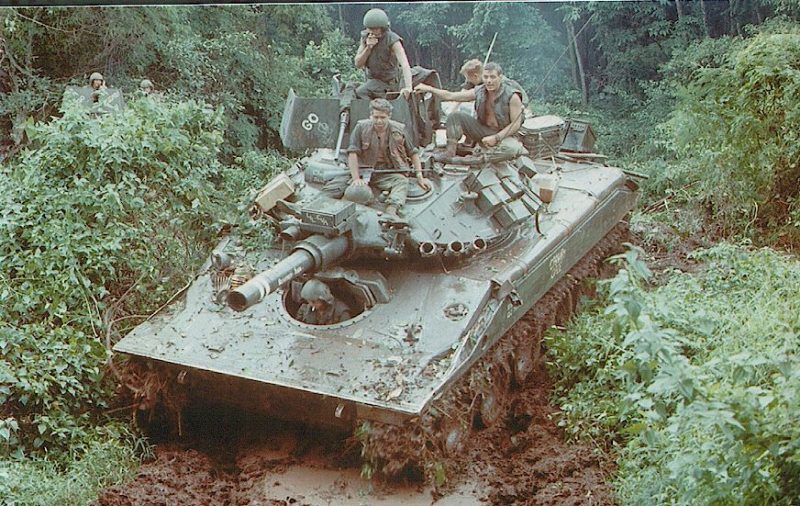 M551 Sheridan of the 11th Armored Cavalry Regiment.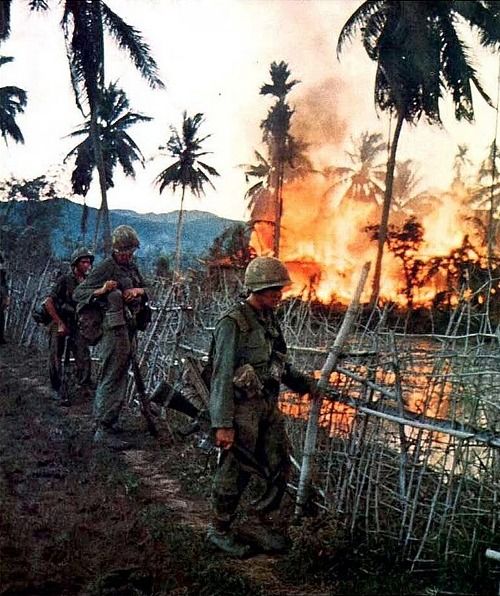 American soldiers after burning a village.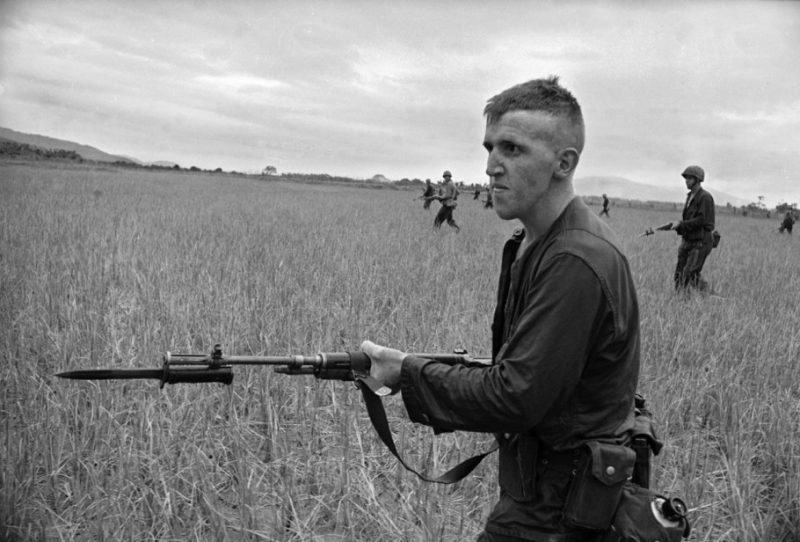 A young Marine goes into battle. Vietnam, 1965. Photograph by Eddie Adams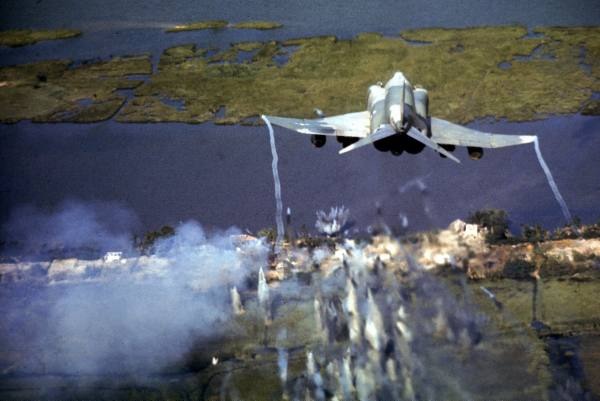 American F-4C Phantom jet streaming contrails from wingtips while regaining altitude after bombing small village known to be a Vietcong stronghold during Vietnam War.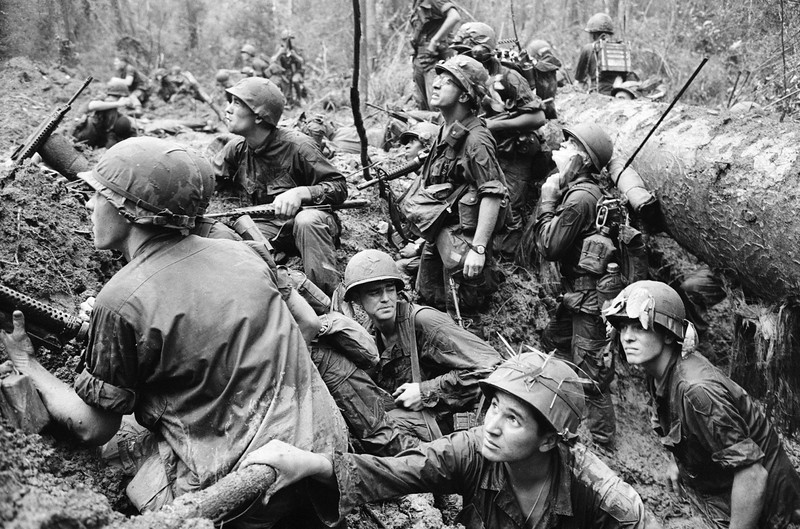 American infantrymen look up at the tall jungle trees seeking out Viet Cong snipers firing at them. June 15, 1967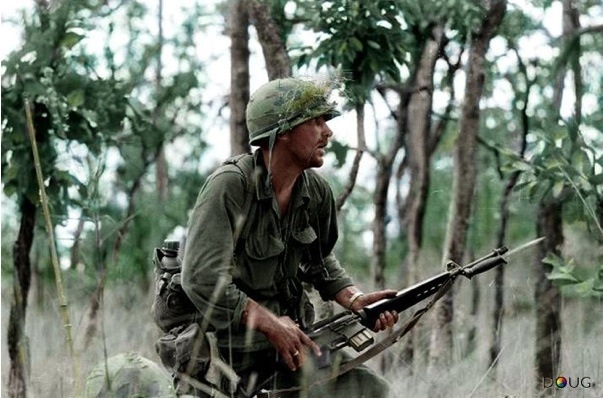 U.S. Army 2nd Lt. R.C. Rescorla, Platoon Leader of 2nd Battalion, 7th Cavalry Regiment, 1st Cavalry Division – Ia Drang Valley, South Vietnam. November 16, 1965. Born in England, he first served in the British Army, then joined the U.S. Army. Rick Rescorla, who was head of security for banking firm Morgan Stanley Dean Witter, is credited with saving 2,700 people by making sure they left the World Trade Center's South Tower before it collapsed. He was killed when he went back in to rescue more people. (Colourised by Doug Banks)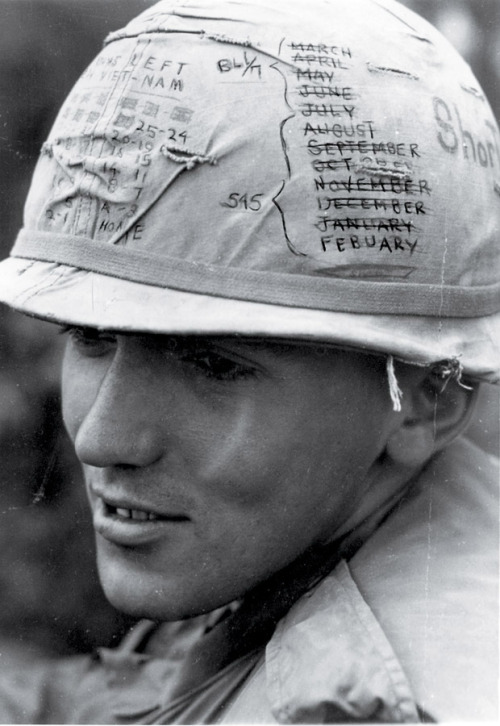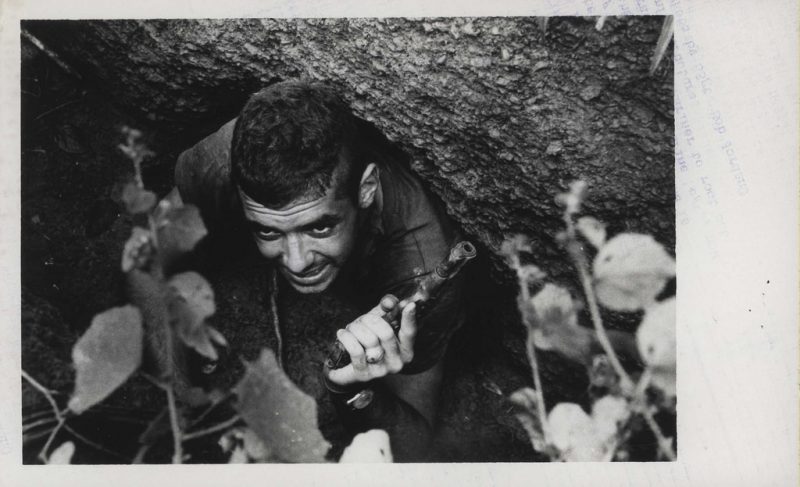 LCpl William G. Cox emerging from a VC tunnel discovered in the Batangan Peninsula. When mapped, it was over 158 yards long and two levels deep.
Operation "Billings" Medic from the 1st Battalion, 16th Infantry, 1st Infantry Division, searches the sky for a Medevac helicopter to evacuate a wounded buddy, following air assault into LZ Rufe in June 1967. (U.S. Army/National Archives)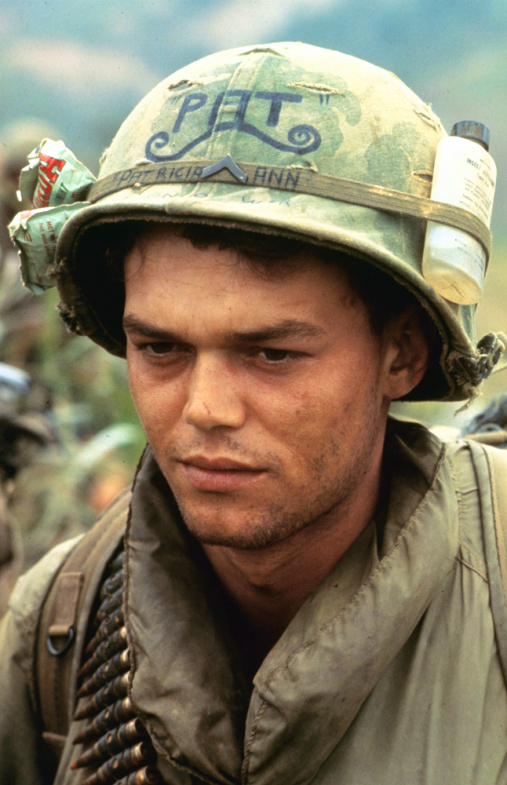 Soldier carrying the name "Patricia Ann" on his helmet as a reminder of the girl back home.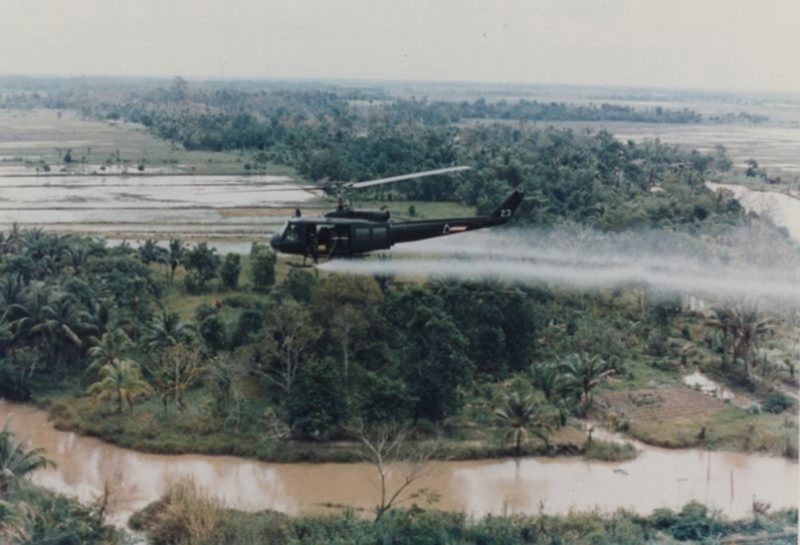 A U.S. military helicopter sprays Agent Orange over Vietnam in this undated photo from the war.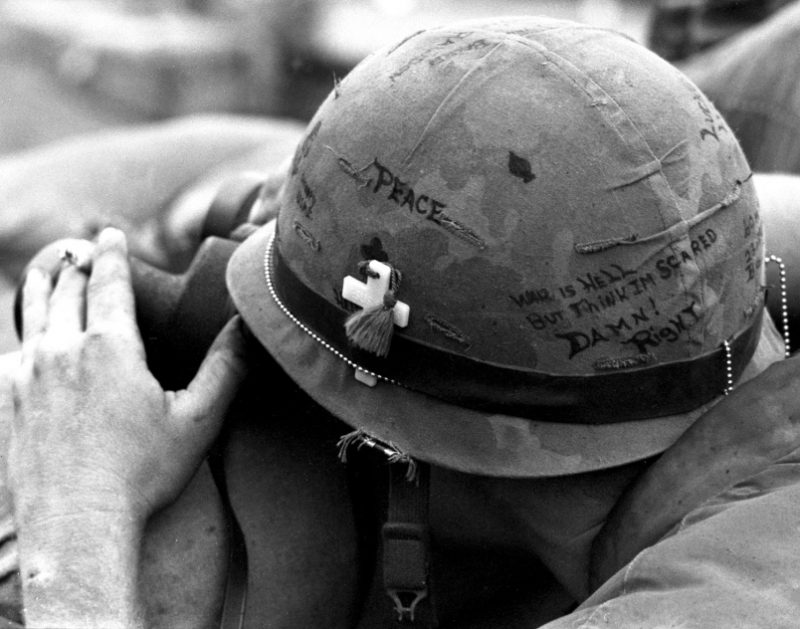 South Vietnam, March, 1968: A U.S. Marine's helmet tells a story during the prolonged assault by Viet Cong forces on the base at Khe Sanh. John Olson, Stars and Stripes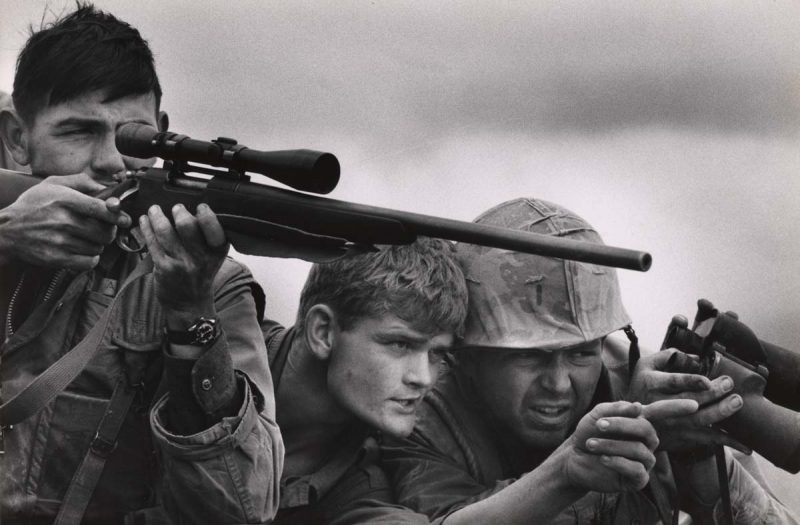 A US Marine sniper team at work in Khe Sanh, South Vietnam, February 1968. By David Douglas Duncan.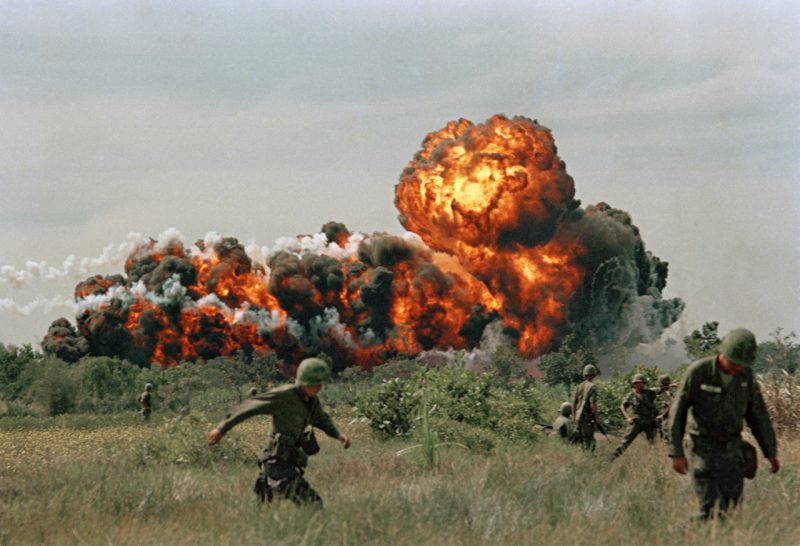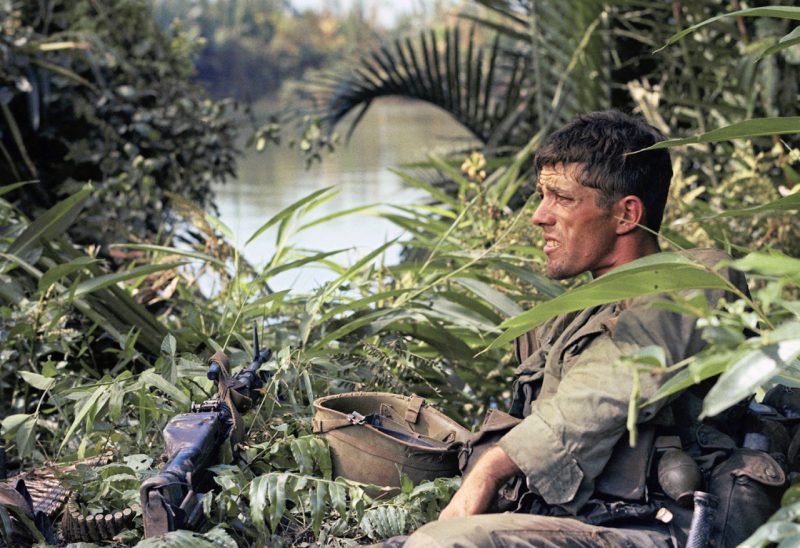 The M60 gunner who looks more than tired
A Douglas Skyraider pulling up after dropping White Phosphorous, a/k/a Willie P.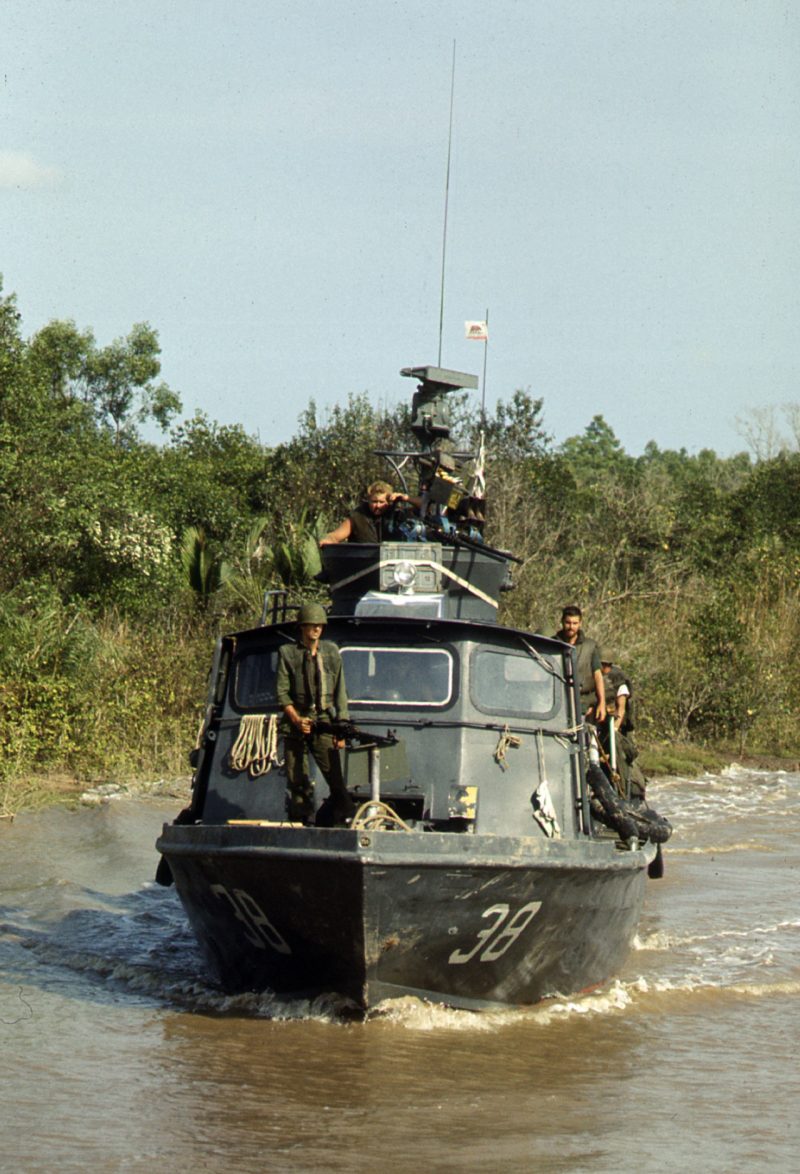 A fast patrol craft on Cai Ngay canal during the Vietnam War in 1970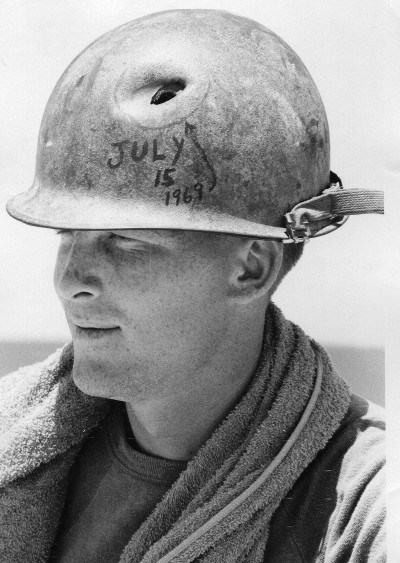 A dated close call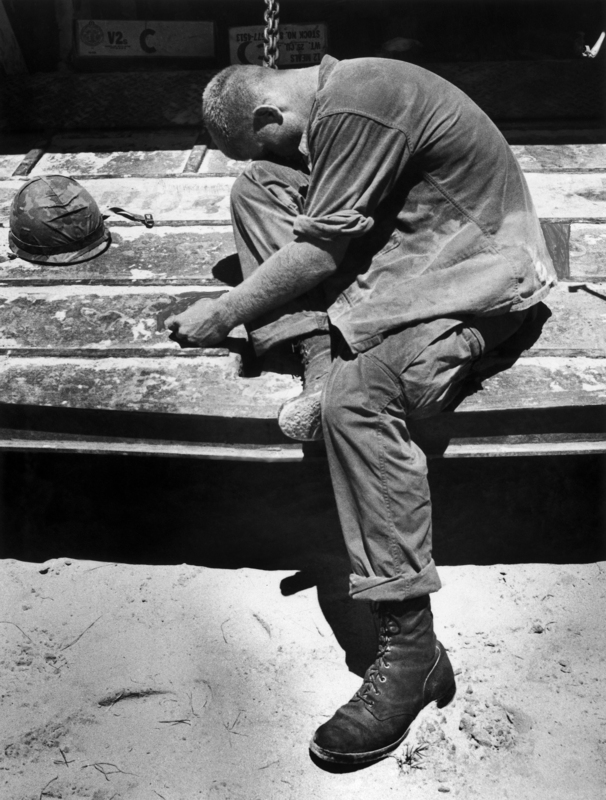 An exhausted marine sobs after carrying wounded and dead marines from a battle on An Hoa Island, South Vietnam, July 9, 1965 by Pulitzer Prize winner Eddie Adams.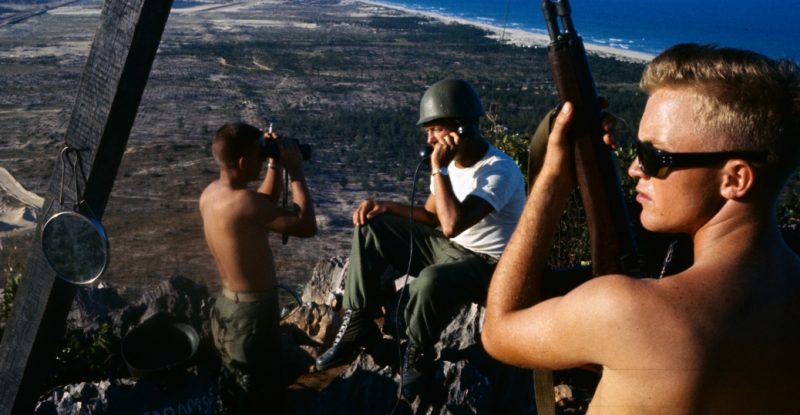 American soldiers atop Marble Mountain, on the coast southeast of Da Nang, keep a lookout over soon-to-be-built Marble Mountain Air Facility on November 1, 1965
This article was originally published on The Vintage News. com on November 7, 2015
Also, don't forget to check out the promotion for my new book, "When Can I Stop Running?" If you haven't read my first book, "Cherries…", there's a free e-book waiting for you. Click HERE for more info.
---